Exiting OZ: How the New Generation Workforce is Changing the Face of Business Forever & What Organizations Must Do to Survive (Thrive)
Authors – Sherry Buffington, PhD, with Gina Morgan, Julie Overholt and Glen Earl, PhD
QuinStar Publishing
ISBN - 978-0-9708926-3-8
216 Pages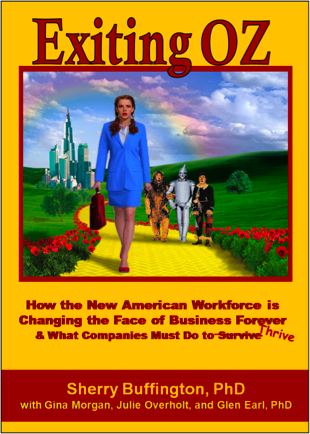 Exiting OZ is an eye-opening book about leadership as it must become for organizations to survive in today's rapidly changing world. It is a must read for leaders interested in building a sustainable organization and populating it with dedicated, high performance people, and for high performance people interested in avoiding the perils and pitfalls of OZ organizations.

OZ is a metaphor for Organizational Zeal, the notion that the organization is more important than the people that keep it alive. OZ organizations are full of ineffective leaders and each is exposed in this book through clever comparisons to the characters from L. Frank Baum's book The Wonderful Wizard of Oz.

Exiting OZ takes you on a fascinating journey through the world of typical organizations and explains in colorful analogies why business-as-usual is a formula for failure as the newer generations move into the workforce majority and reject standard management practices.

Giving organizations a ten to twelve year window to get it right, the authors explain, and back their assertions with plenty of data, why organizations of every kind, from corporations to governments, to academic, religious and other institutions must adopt new leadership strategies if they are to survive and thrive.
Synopsis
Bios for the Authors
Images: Sherry Buffington, Gina Morgan, Julie Overholt, Glen Earl, and Book Cover
If you are with the Press and have questions about Exiting OZ, please contact our Media Helpline at This email address is being protected from spambots. You need JavaScript enabled to view it.
Endorsements for Exiting OZ
"This book is for leaders, managers and executives who want to get better, more predictable performance from every person."
Brian Tracy
Best Selling Author, How the Best Leaders Lead
---
"Exiting OZ ranks at the top of management leadership books. Start to finish, the book not only captivated my interest, it opened my eyes first to my own weaknesses as a leader and then to the weaknesses of people whom I coach and mentor. Exiting OZ at times made me very uncomfortable because it caused me to see, that as hard as I have worked over the years to be the level 5 leader Jim Collins describes, I am a Wizard in too many ways. No leader in any organization, public, private or non-profit, can read Exiting OZ without being motivated to rethink business as usual!"
Leonard Martin
Martin Management
---
"This work is a great analogy for the organizational malaise that is the clash between old world business and the expectations of a new generation of workers. With more and more workers looking for good leadership in today's modern organization, I am sure that even Dorothy would love to have read this book before heading to the land of OZ."
LaFaid Johnson Jr., PhD
Integrated Human Systems
Adjunct Professor, Argosy University
---
"Great leaders make great organizations. Exiting OZ is an excellent metaphor with a message for leaders: People and vision matter! If you want to generate greater commitment, initiative and strategic advantage the insights in Exiting OZ layout the "yellow brick road"… a great read."
Keith Thurgood
President and CEO
Overseas Military Sales Corporation
---
"In order to thrive, every leader can be successful when they make a promise to themselves to read and implement the wisdom in Exiting OZ."
Bill Bartmann
National Entrepreneur Of The Year
---
"Exiting OZ explains the inner thought process of millennials to any organization that intends to recruit, retain, and motivate top graduates. Exiting OZ also provides young professionals and graduating students a way to articulate their career vision clearly and avoid burnout in a "heartless, soulless, or mindless environment."
Sarah J. Shook
Undergraduate Student Body President
Minnesota Student Association
---
"It has become increasingly clear that a Command and Control leadership approach from a select few at the top of an organization is ineffective at managing change and strategically positioning an organization to successfully compete in a shifting and complex environment. Dr. Buffington et al, give us a model through an American archetype, i.e., The Wizard of Oz, to understand the traditional model of leadership and why this is not effective in the present environment.
An effective response to an environment where the future is not predictable requires a workforce that embraces the emergence of solutions to problems not yet understood or even seen. As the authors point out, Generation X and the Millennial workforce have come of age in an era of unpredictable change, rapid emergence of new technologies, and transparency whether one wants it or not.
The heroes of this generation are those able to see the patterns in the world around them and create solutions to problems we didn't know we had. Leaders in such a time must have the ability to create organizational environments where autonomy, mastery, and excitement are the common experience. The authors offer core principles through the OZ metaphor necessary to create a workforce where leadership exists at all levels and management is everyone's responsibility. Creating such a healthy environment is the essence of what Dr. Buffington et al are offering as a solution to the complexity organizations face in the present and future world."
Dr. Kevin C. Seymour, CEO
Center for Personal & Family Counseling,